Moving up to Spec Boxster after many years in Cup, GTS1, and SP2, so am selling my SP2 Prepared Car. Also is competitive in GTS1 in NASA as is with no mods or weight changes.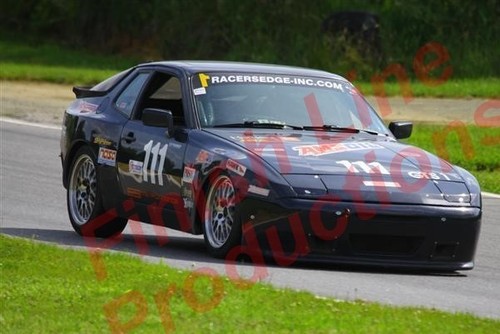 Full set of images is at:
https://944cupsp2racecarforsale.godaddy ... m/pictures
- They will be continuously updated as weather and lighting let get some pics of the cage/interior and exterior.
Car is located in the Northern Virginia/Washington DC area Multiple race wins in GTS1 and Several SP2 Wins and Podiums in previous years. This car is 100 percent turnkey ready to race tomorrow. Has antique plates and can be test driven right now. No assembly or work needed other than a new sub-belt as the current Schroth sub belt expired in 2017. Rest of the other 4 belts expire 2018.
Cosmetically Fair - no major dents/dings, rust. Paint in fair condition. Shines up ok but doesn't hold it well. Usual road gravel rash on nose/hood from 10 years of track use. Car information:
Logbooks:
Has CURRENT 2017 logbooks from PCA, NASA and SCCA
Specs:
1987 944 Tub Configured for SP2 Prep class - races at 2750 minimum weight
Car weighs 2600 pounds with 1/2 tank of fuel, Fikses, and no driver
1.5" .0200 Piper Chromoly Cage -PCA, SCCA, NASA Legal and certified
Motor:
1988 2.5 Block w/Darden Sleeves and Mahle 944 pistons and Carillo Rods ('88 compression ratio)
Fresh timing and balance shaft belts 8/17
Approx 20 hours on engine since new (6 weekends)
No (ZERO) leaks Excellent compression and leakdown numbers
Good power - Fresh BEHE tune 8/17. Can provide dyno sheets from September to serious buyers but it is comparable to class leaders
AC Delete
MSDS Ceramic coated header 2.5" exhaust
Spec Aluminum Flywheel
Upgraded clutch
New 968 Radiator 8/17
968 Oil Cooler All hoses cooling and oil hoses in excellent condition
Power Steering - new cooler 8/17
New OEM steering rack 8/17 (Porsche re-built -not 3rd party)
Braille Battery - 9 lbs - New 8/17
Upgraded Billet Fuel Rail Suspension and Brakes:
Fabcar A-Arms
Big Red calipers/rotors front w PFC 08's (60% life left) Front rotors good for another season
944 Turbo calipers rear (Hawk 60s with 75% life left) Rear rotors 75% life left
ABS - Fully Functional. Factory option in this chassis
Racer's Edge Spherical Bearings/solid bushings/caster blocks etc. in all locations
JRZ remote reservoir double adjustable shocks/struts front and rear
Tarret Front and Rear adjustable bars with the Tarret adjustable drop links
Ground Control Camber Plates
Hypercoils 450 and 600 front/rear
Other
KLA Strut Brace
New SFI Window Net 2017
Right Side Net
Additional Oil Temp and A/F Ratio gauges
Harry Glass Fiberglass Nose with custom ducting for radiator, oil cooler, brakes. Removable in seconds with Dzuz fasteners
GT Racing Fiberglass rear bumper
Lexan rear hatch - new 6/17 so it's perfectly clear - no fading/scatching
Seatback brace brackets are installed on the cage. I believe I have the Brey Krause brace somewhere in the garage.
Trans:
1988 924S Trans with short 5th gear (same as 944 but without speedo drive)
Fresh Guard LSD - 6 weekends since rebuild
4:30 Ring and Pinion: NOTE - this is not the 4:11 out of the 924 Turbo. It is the real McCoy 4:30 unicorn. Built by Charley Moore at Intersport.
Weltmeister Short-Shift Kit
Solid Trans Mount
Wheels and Tires - 3 full sets with tires
1 Set of (4) 17x9 Fikse Profile 10 3-piece alloys with 245x40 R7 Hoosiers. Purchased new at Radial Tire prior to the Potomac Club Race in Sept. 2017. 3 sessions on Saturday of the race weekend.
1 Set of (4) 17x8.5 5 spoke 993 or 996 Porsche OEM wheels. 245x40 R7s with 10-12 sessions on them - still had good speed in them for the Enduro
1 set of (4)17x7 5-spoke 928 Porsche OEM Wheels with 245x40 Hoosier R6 Rains. Tread is excellent and edges of tread blocks still sharp, but are approx 2012 builds. Still soft, no dry rot.
Extras/Spares/Parts Etc. include:
Spare DME from Ftech9.com. Fully solid state 100% copy of the late 28 PIN DME. Brand new.
Spare ABS Computer Power Steering Pump (maybe 2)
Alternator
Starter
Fresh Axle with CV joints
2 hubs with fresh bearings
Complete stock rear hatch/glass/spoiler
Injectors
Full Wiring Harness
Various Sensors and Relays
May be a set another set of hypercoils
Whatever else I have I'll throw in Pictures to follow as I get them uploaded
Can separate out some items such as wheels if needed. Contact Me for Options NOTE - Car does not include a seat/detachable steering. I can include one for an additional price.
Car has a Virginia Title
Also, data logger/digital dash and gopro are not included. Stock dash is installed and is fully functional.
Other than the above items, car is sold as is with no warranties, as is.
You can test drive on the street as it does have antique plates.
Car can be delivered to you within 4 hours of zip code 20165 at no cost.
I require a $1500 deposit (non-refundable) within 24 hours and balance paid within 7 days. Payment method can be discussed as needed.